Today, we are proud to announce VLC on the Apple TV. It's a full port of VLC media player combined with platform specific features.
VLC for Apple TV integrates with a plethora of devices and services on your local network and includes a custom way of casting files directly to the TV from your other computers using a web browser!
Background
Immediately after Apple announced the future of television, we started to develop for the new box and now it is finally ready to be published. This is the first app we release with the increased limit of 2000 TestFlight beta testers, who had access to our app since mid November and greatly influenced the result. We were excited about the amazing amount of feedback we received.
Our mission for VLC for the Apple TV was to fulfill our claim "plays it all" and we got close:  it supports virtually all formats under the sun (like the iOS version of VLC). Before demonstrating VLC's advanced playback experience on the Apple TV, let's discuss about ways how to actually access content!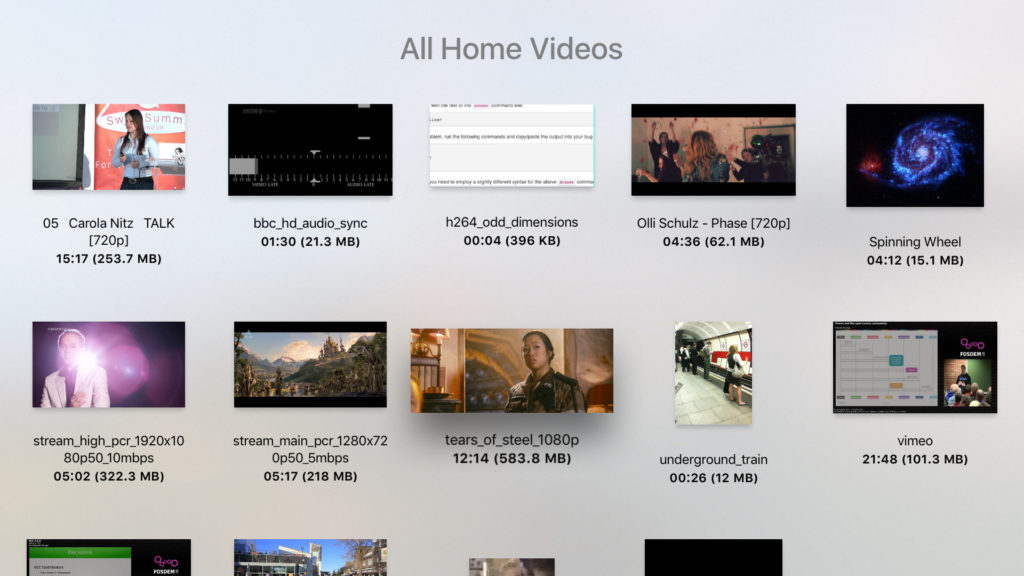 Content Discovery
VLC on the Apple TV automatically discovers storage and shares on your local network (using the SMB, UPnP media server, FTP and PLEX protocols). You can browse them with the clicker or the Remote, select the content you want and it will play.
During playback, you'll be able to add subtitles from OpenSubtitles.org. Login credentials can be securely stored on your Apple TV and will be synchronized to your iPad or iPhone (and the other way around) to ease access.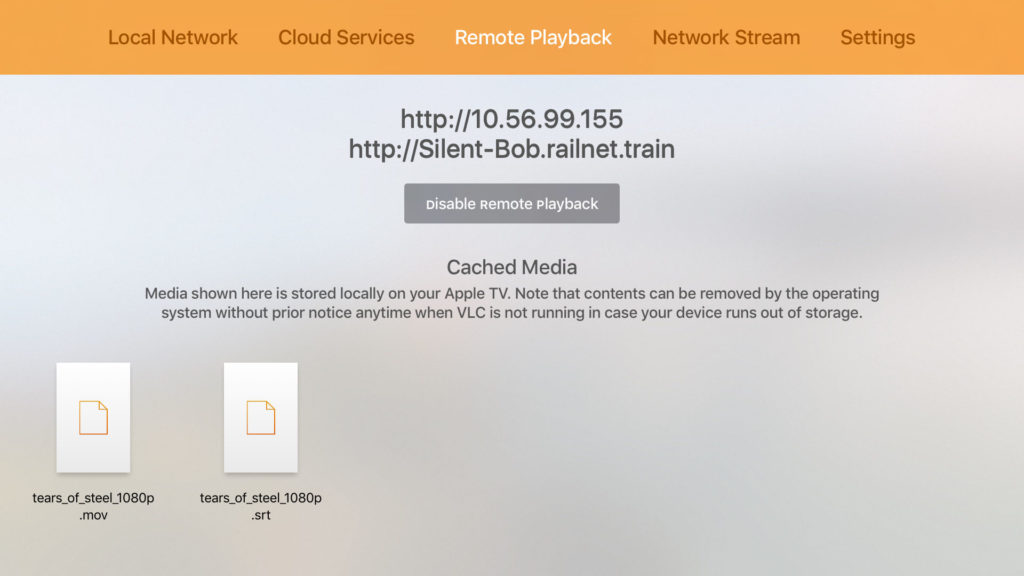 Remote Playback
However, what about network streams and files you don't have stored on your server? This is where Remote Playback steps in. On this view, VLC shows an address (and an IP) on your Apple TV. Open it using your web browser. Drop a file to play it on the big screen, drop multiple files to queue them. Until storage hits its limits on the Apple TV, the files will remain available locally on device.
For playback of a network stream URL on your TV, just paste it to the field and push return. Once playback concludes, you will find it in the Network Stream view for future use. Like for files, you can send multiple URLs rows in a row and they will be attached to the playback queue.
Finally, the web interface can be used for play/pause and seeking.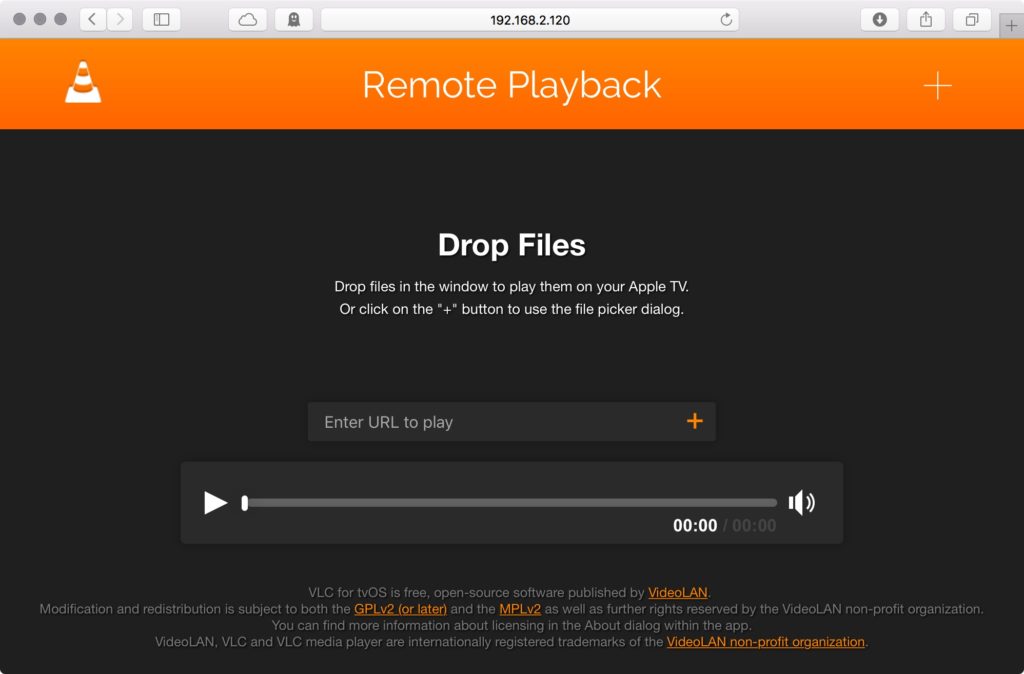 Speaking about network streams. URLs recently played on iPad or iPhone will appear along with the ones played on the big screen automatically.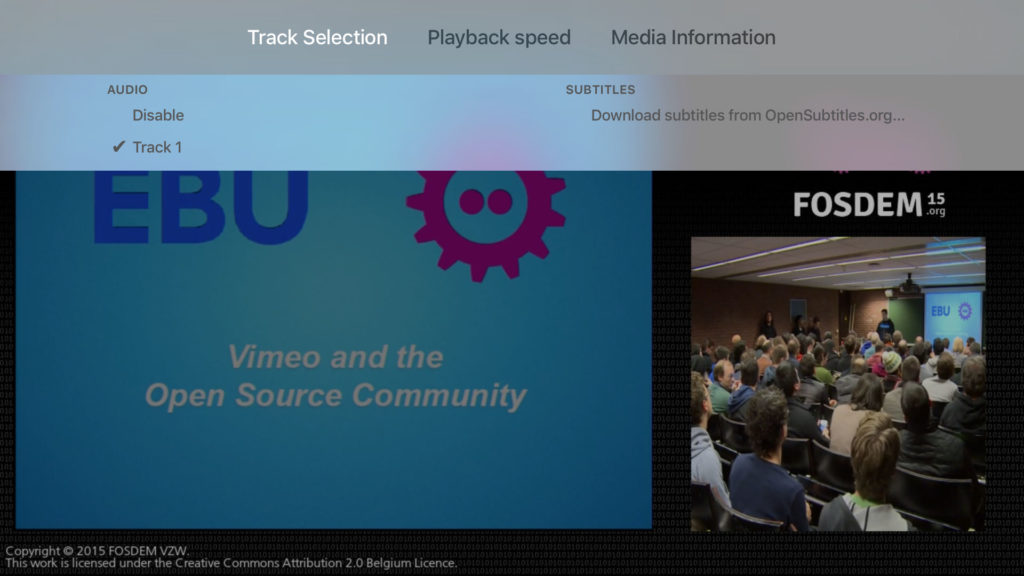 Playback
VLC for the Apple TV supports the basic play, pause and seek. Additionally, you can navigate by chapter and titles or pick from multiple audio and subtitles tracks.
Watching a talk and you'd wish the speaker would be a bit quicker? Set your custom playback speed, a feature we missed from any other player on the Apple TV so far. As VLC is increasingly used to watch talks and documentation in education, it was naturally of high importance for us to include this feature from the start.
You enjoy listening to web radio or music? We believe that just showing album art is a bit boring so we integrated with the community service hatchet.is to show artist imagery and biographies – give it a go!
Let's go back to subtitles for a second: VLC on the Apple TV supports any kind of text (srt, SSA, WebVTT, …) or bitmap subtitles including full support for Right-to-Left languages like Arabic and Hebrew, complex text layout for Malayalam as well as further Asian languages.
What to do when subtitles are not included with your media? Within the playback view, you can find VLC's first integration on embedded platforms ever with OpenSubtitles.org!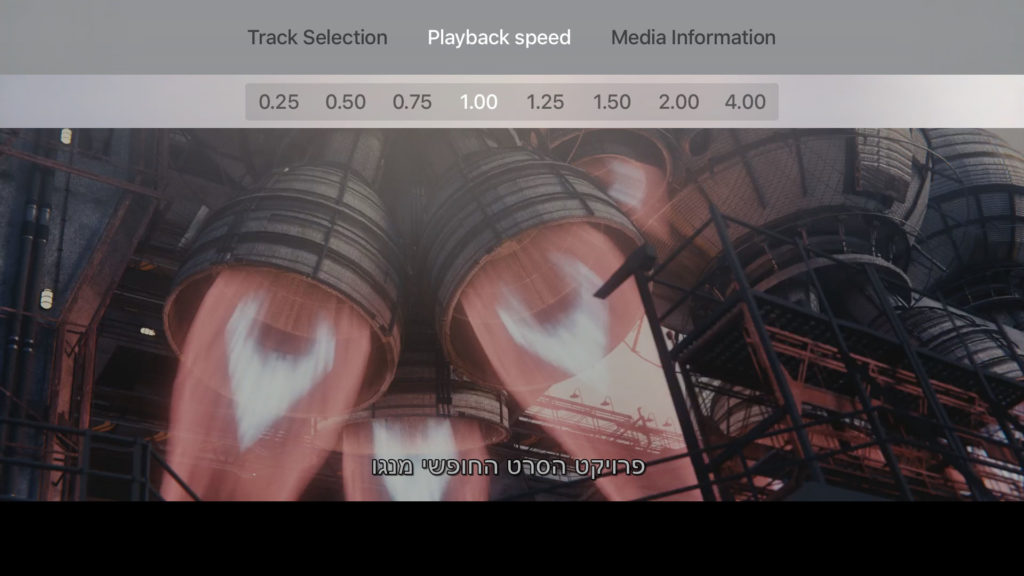 Outlook
When looking closely, one content source known from VLC's iOS port is missing so far: Cloud Services! Support for Dropbox, OneDrive and Box is currently in beta testing using the TestFlight platform. It will appear shortly after.
The day Apple announced the new device, we immediately started porting VLC to their new operating system and finally, our initial version was approved! We are excited about this first new port of VLC in 2016 after concluding 2015 with a port to Chrome OS and are really looking forward to your feedback!
I can't thank Tobias enough for his dedication during the last quarter to make this possible.